Baboon King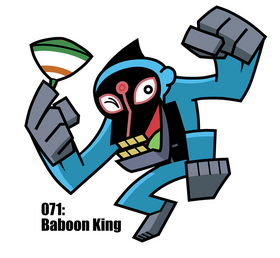 The Baboon King is the king of baboons.
Appearance
Edit
He's different than all the others in that his chest doesn't have fur, he has a black head, and has unique marking. He likes spinning tops.
During Baboon Castle, Woo the Wise and Parrot King came to Baboon Castle to befriend the baboons and stop them from stealing water from humans. He and his minions agreed with Woo but Baboon King & his minions were overrun by Fleas, making them evil. When baboons turn evil, their eyes turn red. He quickly took Woo the Wise hostage and engaged First Squad in battle. The result was a rainstorm that made the trees flourish with berries and put the fleas to sleep. Woo then explained that they were overun by fleas. Baboon King had Jumpy make a pinky promise but got him infected. Evil Baboon King challenged Big Green to a top spinning competition. They had spin & knock the other out while avoiding the fire. Thoughout the challenge, eventually Jumpy was squashed by the Baboon spinner so Lin Chung decided to spin Mighty Ray. He failed, but found the Chinese soap berries. Eventually Big Green won & Big Green washed the fleas of the Baboons. Grateful, Baboon king joined Big Green and became in charge of doing the laundry. In "Turtle Cannon Competition III", he won the award for most appreciated service by an animal during the "Big Green Awards". In "sheep castle" Yaksha summoned him to help first squad fight the sheep. Although he is not seen in "Elephant castle II", it is Baboon King who warns Commander Ape Truly that there's something wrong with Elephant King.