Bat King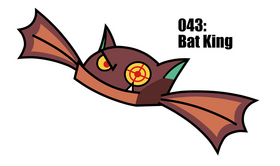 Bat King is the king of bats, who agreed to join with Big Green after a humiliating defeat and upon noticing that neither the eagles nor High Roller cared about him and his subjects.
Appearance
Edit
Besides being just slightly bigger, the Bat King has no major difference from the other bats, other then his browner coloration.  His right eye is particularly notable and resembles a radar screen.
Bat King first appeared in Pitched Battle of the Air Force Part I, when HighRoller had the bats, hens, and eagles join together. The bats were used to read minds in order to pick up the Air Force's moves beforehand, allowing the eagles to easily dodge and counter-attack. First Squad had to be called to assist. But before they could do so properly, Mighty Ray, Jumpy Ghostface, and Mystique Sonia jumped on and attempted to fly the planes. Because they were not in control of their planes, their thoughts did not predict their next moves and the bats received no forewarning. Unable to predict where attacks would come from, the eagles were quickly knocked out of the sky by the careening jets.
Still determined to win, the bald eagles mounted a ground assault, still using the hens as blasters.  After Mighty Ray blasted them, they threw the bats like boomerangs and abandoned them along with the hens.
Subsequently, Bat King accepted Commander ApeTrully's offer for friendship, seeing that HighRoller and the eagles did not care about them. The bats later helped Big Green defeat the monster that was created from HighRoller, the Zebras, the eagles, and Bearstomp by Mighty Ray. They now work as a forewarning system for the Big Green air force pilots, though they have not been seen in this role since Pitched Battle of the Air Force Part II.
Bat King and his subjects use their mind-reading abillities by reading brain waves, and can display images of the minds they read or the plans their foes are thinking of in their larger eyes.