This article is about the character. You may be looking for the episode.
Bronze Giant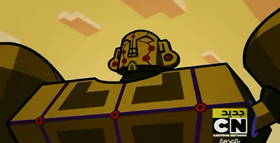 The Bronze Giant is a huge being created by the fusion of 107 heroes. Maybe you know one existence at a time, when that's what Big Green has come together to defeat the Twin Masters once and for all.
Tien Khuan evidently came to know of the Bronze Giant at some point prior to The Bronze Giant Part II, and he passed this knowledge on to Lin Chung after Big Green base had been destroyed. Lin Chung subconsciously drew an image of the giant in his sketchbook.
Lin Chung then traced the outline of the giant on a flat expanse of land, detailing with circles the places for the heroes to stand. He then used Harmonic Energy to absorb these heroes into the giant.
Upon its creation, the Bronze Giant sought out Twin Masters, and the two dueled. Although they were fairly evenly matched, Twin Masters gained the lead by opening a vortex of Chaotic Energy. Only by calling upon the combined Harmonic Energy of all of the heroes was Twin Masters destroyed, at which time the giant dissipated into its constituent members.
Powers and Abilities
Edit
The Bronze Giant theoretically possesses all the powers of all of Big Green's heroes. Some which have been demonstrated are:
The giant walks in an uneven, wobbly manner, which is presumably why Mighty Ray asks Lin Chung if he knows how to steer it.
In About Faces, Twin Masters speaks of the necessity of preventing the heroes of Big Green from attaining their harmonic potential. It is possible that he was referring to the formation of the Bronze Giant.