Crab King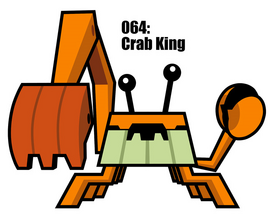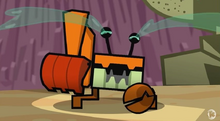 Crab King is the leader of the crabs. He reigns at Crab Castle.
Biography
Edit
Crab king likes to make sand sculptures. In "Crab Castle", he had his soldiers tortured humans by burying them in sand. After he and his minions were captured by First Squad, The Sailor Brothers, and Sammo Whale, he challenged them to a sand sculpture competition, which Lin Chung accepted. He sculpted HighRoller but it lost to Lin Chung's sculpture of Sammo. This made him cry, and the water from his tears made the HighRoller sculpture collapse on the other crabs. Once Lin Chung helped him save his soldiers, he freed the humans and joined Big Green. He helps them with hard labor work like digging and pushing things since he is quite strong and good at digging. For instance, in "Cheetah Castle II", he helped save the humans and cheetahs inside by digging a hole out of the crystal encased castle, and in Pitched Battle of the Great Wall Train Part II, he moved the tracks to divert the train into a valley.
In Star Nosed Moles, he is able to speak human language in ApeTrully's dream. It is unknown if this reflects real-world events, or if this was an invention of the dream.
Unlike the rest of his subjects, he appears to be modeled after an excavator. This is further emphasized by the fact that his right claw is shaped like a construction scoop and that his eyestalks function as levers to allow someone to control him.