Duckbill King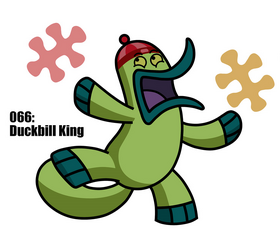 Duckbill King is the leader of the Duckbills. He first appeared in Duckbill Castle.
Appearance
Edit
Duckbill King is lime green with a blue bill. He has small round eyes with black pupils, and he wears a red hat on his head.
Personality
Edit
He enjoys making puzzles and subsequently putting things together. He is a good friend of the royal cheetahs. He can also be sneaky, as he worked with the Zebra Brothers to set a trap to trap First Squad in his Duckbill puzzles.
In "Duckbill Castle", Lin Chung, Cheetah King and Cheetah Queen set out for help to repair their portrait. At the same time Commander ApeTrully and the Tank Army set out to befriend him and get him to release the humans. However, he had his minions turn into jigsaw pieces, and capture them. When First Squad set out they saw the cheetahs playing shuttlecock, they decided not to get involved. This only lead them into the trap set by the Zebra Brothers and duckbills. When Lin Chung and the Cheetahs got there they asked Duckbill King to fix their portrait which he quickly came down to do. However, remembering that they were enemies at the time, Duckbill King stopped and had his minions go out in puzzle form to try an catch them. However, Lin Chung joined with the cheetahs and together smashed all the puzzles. The Zebras, seeing the full moon, used their Ghost Lanterns to send zebra-like mosquitos at them but this only, inadvertently helps them learn the "Super Spin Punch" which they use to knock the Zebras away. Admiring the way they "join together" for strength, Duckbill King has he minions release ApeTrully, First Squad, the Tanks, and the humans and fixes the cheetahs' portrait, and he joins Big Green.