Egret Queen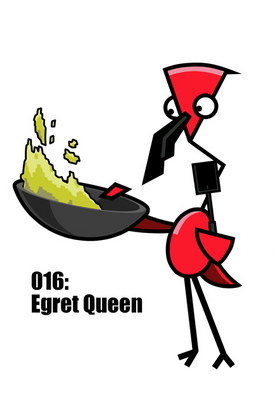 Egret Queen is the leader of Egrets and one of the heads of Egret/Ox farming quarters.
Appearance
Edit
Egret Queen is tomato red coloured, with a head shaped like a quarter of a circle. She has small round white eyes with black pupils, a very skinny neck, an egg shaped body with wings and a short tail, and longish skinny legs with 2 toes on each leg. She's distinguished from other egrets in that (aside from error scenes) she's the only red one.
She and her egrets work in close proximation with Ox King and his oxen. She's often the one who calls the shots in battle. She's a good cook. In "EgretOx Castle" she and her soldiers along with the oxen were bombing people by drawing them into range with their delicious rice. When Ape Trully tried to make peace with them to get them to stop she and Ox King captured him and used him as a scarecrow. Later she and her minions along with the oxen fought off the locusts and hit Ape Trully in the process. When First Squad got their they had an easy time fighting the oxen and egrets until they captured most of them by immobilizing them with the sweet smell of their rice. Lin Chung then fought them on his own until the locusts came and began eating the crops. Together they bombed the locusts until Jumpy got out and began protecting them. Annoyed, Egret Queen fired Ox King at Jumpy who knocked him out. The locusts then merged into bigger ones and Jumpy told them they must help if they want to eat rice. The locusts then make peace with the egrets and oxen and they make peace with the humans. Egret Queen's job at Big Green is being one of the cooks in the cafetria.