Elephant King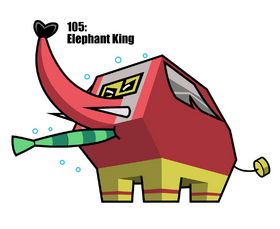 Elephant King is the ruler of Elephant Castle and king of the Elephants.
He first appeared in Elephant Castle, where he captured Commander ApeTrully, who signalled for First Squad and the Tank Army. After Mighty Ray beat his minions, he challenged First Squad to whistle blowing contest. At that time, Lin Chung caught up with his drawing of the mysterious tree which Elephant King destroyed. Out of anger, Lin Chung blew the whistle straighter and beat Elephant King. After Mighty Ray saved his life when fell unconcious from blowing to hard he joined Big Green.
In Elephant Castle II, he's revealed to be able to talk after taking Parrot King's lessons. While on a stroll, the Zebra Brothers trick him into leaving Big Green. Eventually he finds out he was tricked and knocks the Zebras away while rejoining Big Green. His job is to blow cool air through the base on hot days, though he learns to be 'creative', and uses different scents of fruits with the cool air.
Appearance
Edit
Elephant King is very large, much like normal Elephants. He is distinguished from the other Elephants by his colours. He is bright red with big beige coloured ears, short lemon yellow coloured legs with a red stripe on each one, a pale greyish face, square shaped yellow eyes, outlined with red, with square black irises and white round pupils, small white tusks and a long red trunk with a black tip. He also has a skinny black tail with a yellow disk shaped tip. Elephant King is based on an African bush elephant.
Personality
Edit
Elephant King seems to be very trusting, and believes what he hears, as seen in Elephant Castle II, when the Zebra Brothers pretended to be Mystique Sonia and Mighty Ray, and he believed the things they said without realising it was a trick.