This article is about the TV show. You may be looking for the Bronze Giant, classified as Hero: 108.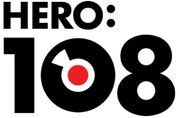 Hero: 108 is a European-Taiwanese animated television series on Cartoon Network and the Cartoon Network international cable network, and Kabillion OnDemand channel in the United States. The series is created by Yang-Ming Tarng and is co-produced by Gamania, Hong Ying Animation, Taffy Entertainment, Telegael Teoranta and MoonScoop Group, and animated at Mike Young Productions in Los Angeles.
Storyline
[
]
The story follows the adventures of First Squad, a team of warriors who work for the peacekeeping organization Big Green in the land of Hidden Kingdom. Many of their missions center around repairing the rift between humans and animals created by the wicked High Roller, who convinced the animal kingdoms that humans were their enemies.
Starting in Season 2, a new enemy, Twin Masters was introduced. They are a demonic entity with the power of Chaotic Energy and the ultimate goal of ending all life in Hidden Kingdom.
Danske Stemmer
[
]
Additional Voices (Denmark)
[
]
Annevig Schelde Ebbe
Elias Eliot
Mads M. Nielsen