Highroller is the main anatoganist in  of Hero 108. Highroller acts like a bratty kid most of the time, but if he needs to, he can hold his own in a fight.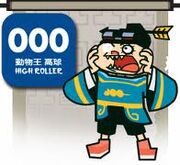 It all began when
High Roller
, who was kicked out of East Citadel for insulting the old emperor and grew to hate other humans, got struck with a lightning bolt that gave him the ability to talk to animals. At the time, humans and animals lived together in great harmony. But then the vengeful and wicked High Roller fooled the animals into thinking humans were their enemies or unworthy friends and enticed/bribed them with candy. Chaos quickly came as Animal Kings and Queens began kicking humans out of their castles, enslaving them, taking them hostage, or further persecuting them. This forced many people to live underground or in other secretive places.
Highroller will abuse the animal rulers most of the time. He also forces them to pay tribute. High Roller is short-tempered, rude, sarcastic, cynical, grouchy, ill temperd, and has a snobby attitude.
Realationships
Edit
Read More
Edit