Lion King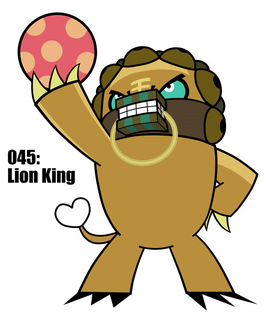 Lion King
is the leader of the
Lions
. He rules
Lion Castle
, and he first appeared in "
Lion Castle
".
Appearance
Edit
Lion King looks much like normal Lions, only he is larger in size and has the coloration of a real lion. He also has markings on his head, bright cyan eyes with white irises and black pupils, and blue stripes on his snout and mouth. He also has a unfilled heart tail tip.
Lion King fought with First Squad sometime before Camel Castle, and possibly before Rabbit Castle as well, judging by Jumpy's absence, during which time he wrestled with Mystique Sonia and Mighty Ray. In "Lion Castle", Commander ApeTrully tried to make peace with him but the lion king tricked him and it resulted in ApeTrully getting used as a basketball. When First Squad and Red Face Kwan and The Infantry came and beat his soldiers, he challenged them to basketball. Seeing that normal basketball was too easy for them, he made it harder by using an iron cannon ball and had the net be pushed far away. They had trouble at first but Mystique Sonia beat him in the end (thanks to a ton of strength buns she ate earlier). Impressed by her strength, he joined Big Green and became the base's exercise coach.
At an unknown point in his life, he was evidently bitten by a leech whereby the leeches were able to assume his shape.
Judging by the original promo, it seems that Lion King was intended to be able to breathe fire. In the show itself, only ligers have demonstrated this ability.
In First Squad's briefing room, a drawing of Lion King can be seen at times on the wall.
Throughout the show he is referred to as the "King of Lions", possibly to avoid confusion with Disney's The Lion King.