Origin Man
is a prehistoric
human
who came to be frozen in ice. After he was freed by one of
Twin Masters
' schemes, he went on to join
Big Green
.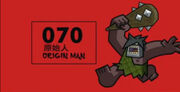 Biography
Edit
Frozen in ice at some point in the past, Origin Man was discovered by Twin Masters in Resurrection of T-Rex, alongside a Tyrannosaurus rex. Planning to sow destruction, they thawed them out, whereupon the two began to fight. However, Twin Masters used their power to direct them onto a rampage.
Later, Origin Man and the T. rex are met by First Squad, along with Crocodile King, who had come to quell the destruction, courtesy of a summons by Penguin King. The rwo parties engaged in fierce battle, but made peace before too long. At this time Origin Man became an ally of Big Green.
Realizing what had happened, Twin Masters appear to destroy them, but are countered by First Squad. Eventually, the T. Rex sacrifices himself to defeat Twin Masters, though Twin Masters manages to retreat.  Everyone mourned the loss of T-Rex, but Origin Man (then reformed of the Chaotic Energy) joined Big Green. Lacking a name, ApeTrully dubs him Origin Man. 
Powers and Abilities
Edit
Origin Man is strong and capable of wielding a heavy club.
Origin Man