Panda King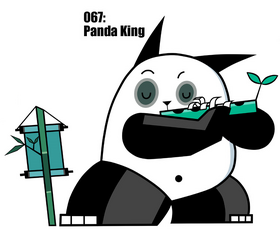 Basic Information
Species
Panda
Dwelling
Pandaffe Castle, Big Green
Allies
Big Green, Commander ApeTrully, First Squad (especially Mystique Sonia), Rattle Diva, Giraffe King, other Pandas, Giraffes, Humans, Frogs, Frog King.
Enemies
High Roller, Twin Masters (formerly, deceased), Zebra Brothers, Bearstomp, Humans (formerly), Big Green (formerly).
Panda King
is the king of the
Pandas
and one the leaders of
Pandaffe Castle
. He first appeared in "
Pandaffe Castle
".
Biography
Edit
In Pandaffe Castle, the giraffes and his pandas were making humans listen to bad concerts. They captured Commander ApeTrully when he did not clap. When First Squad arrived they found that the giraffes were launching pandas like cannonbolls at the Tank Army. Lin Chung snuck in and found that the attack was making the pandas and giraffes tired. However, Panda King and Giraffe King reenergized them with their music. Lin Chung summoned Rattle Diva but, still angry, she teamed up with Panda King and Giraffe King to make mega music. But all it did was make the giraffes so strong that they launched all the panda soldiers into the clounds. After First Squad got them down, the kings joined Big Green.
In Snake Castle, it was shown that he bacame close friends with Mystique Sonia. He gave her a Flute which proved vital in befriending the snakes.
In Frog Castle, it was shown that he was part of the Do-Re-Mi Band and he helped befriend the frogs later on.
In The Strongest Punch and Kick, he combines with Mr. No Hands to help fight Gorilla King and Kangaroo King.
Abilities
Edit
He is a highly skilled flute player, and with Giraffe King, he can make music that's so good that it energizes other animals and humans. Can combine with Mr. No Hands, making them powerful enough to temporarily hold their own with the Gorillaroo.
He's classified as hero: 067

​This corresponds to the sixth-seven ranked Star of Destiny in the novel Water Margin, Ma Lin, whose nickname is "Iron Flute Deity".[citation needed]

He was one of few animal leaders to inhabit the same castle as another animal race.
He's the only bear that doesn't look like the other bears like: Bearstomp and Polar Bear King.