Peacock Queen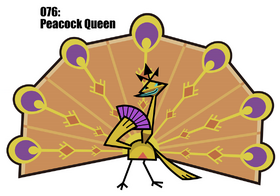 Peacock Queen is the queen of the peacocks, who live in Peacock Castle. She first appears in Peacock Castle.
Appearence
Edit
Peacock Queen is golden-orange with a blue beak, blue eyes and an orange tail with yellow and purple patterns on it. Much like other peacocks, she has a long neck, a diamond shaped head, thin black legs, black feathers that resemble pointing arrows on top of her head and a long tail that fans out, showing pretty coloured feathers. She also usually carries a purple hand fan with her wing.
Personality
Edit
To begin with, Peacock Queen was very snooty and shallow. She only thought of herself and was very vain, becoming obsessed with her beauty. However, after the events of Peacock Castle when she saw that Yaksha still loved Mystique Sonia no matter what she looked like, she learned that looks are not really everything and became a lot nicer, even helping Big Green with their timekeeping problem. She doesn't like anyone disrupted her tea time when she blow the Zebra Brothers away to the Volcano.
It is actually male peacocks that have pretty feathers, females have dull feathers.
Peacock Queen's Mid-Atlantic accent sounds very similar to that of Rarity on My Little Pony: Friendship is Magic, who is also voiced by Tabitha St. Germain.
Community content is available under
CC-BY-SA
unless otherwise noted.