Pig King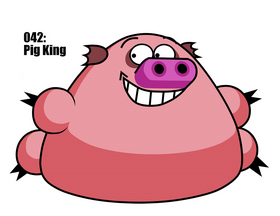 Pig King is the king of pigs.
Biography
Edit
At some point in the past, Pig King allied with HighRoller.
Pig King would later be summoned, along with his pigs, to a meeting at East Citadel, along with the skunk army.  Highroller assigned command of the pigs to Sparky Black and the skunks to Sparky White.  They would then attack Big Green from two sides.
The pigs then set up camp on the shore near Big Green base, where they dispelled all who tried to approach with pig tail vibration attacks.  This notably included ApeTrully and his guard, but later Mighty Ray and Lin Chung.  These members of First Squad managed to hold their ground, but were then defeated by the pig nose vacuum attack.
The heroes then hatched a plot to make the pigs and skunks fight one another.  Pig King and his pigs were led toward the skunks.  When the pigs used their nose vacuum attack at the same time as the skunks used their stink monster attack, both were defeated.  The pigs became sick and sneezed, but were made better when given hankies by ApeTrully's generosity.  Pig King then agreed to join Big Green.
After Skunk King fumigated Big Green to drive out the termites, Pig King used his vacuum powers to clear up the refuse.  Mighty Ray was accidently trapped in his nostril as an unintended result.
Pig King later auditioned for a substitute for turtles.  He failed because his feet could not touch the treads.
Pig King was one of the 107 heroes who helped form the Bronze Giant.
Pig King is classified as hero 042.