Porcupine King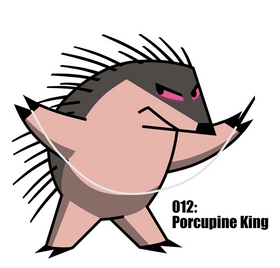 Porcupine King is the king of porcupines.
Appearance
Edit
Like other porcupines, Porcupine King has a round body with a pointy face, jagged teeth, and two claws on each foot.  He is slighty larger and a little darker than his minions, with red eyes and a pink belly.
Biography
Edit
He joined Big Green after Lin Chung bested him with remarkable aiming and shooting skills in a game of darts in Porcupine Castle.
He later helped to form the Bronze Giant.