Porcupine King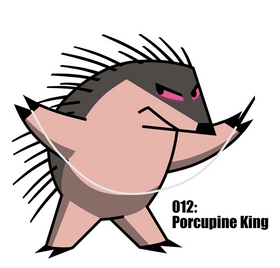 Porcupine King is the king of porcupines.
Appearance
Edit
Like other porcupines, Porcupine King has a round body with a pointy face, jagged teeth, and two claws on each foot.  He is slightly larger and a little darker than his minions, with red eyes and a pink belly.
Biography
Edit
He joined Big Green after Lin Chung bested him with remarkable aiming and shooting skills in a game of darts in Porcupine Castle.
In Big Baby Turtles, Porcupine King auditions as a stand-in for the Turtles and is automatically rejected, due to the fact that no one can sit on him nor his men when they have quills on their backs.
He later helped to form the Bronze Giant.