The Sailor Brothers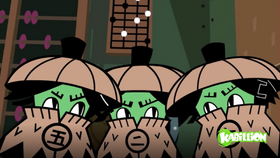 The Sailor Brothers are members of Big Green who work in Big Green's navy, their most notable job is to pilot Sammo Whale when he's needed on missions from inside the machinery deck that's attached to him, and they also man his cannon ball room when in underwater combat. They first appeared in "Liger Castle".
Appearance
Edit
The Sailor Brothers wear brown cloaks, brown hats, have black hair and green skin. Just to note, nothing seems to distinguish individual brothers besides the marks on their cloaks, which are (in Chinese characters), from left to right as seen on the picture, the numbers 5, 2, and 7.
Abilities
Edit
Net making:They are obsessed with making their fishing nets and will baleen for string from any source, even people's clothing as seen in "Crab Castle".
Ring Tossing:They are exceptionally good at throwing rings, as seen in "Liger Castle", and they must for one of their important jobs is to throw life preserves at people who are drowning.
BoatsThey can use their hats as boats and paddle with them.