Tiger King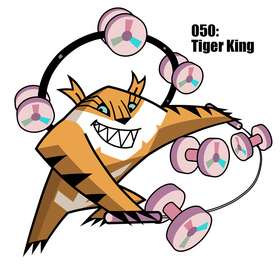 Basic Information
Species
Tiger
Dwelling
Big Green
Allies
Big Green, First Squad, High Roller (formerly), other Tigers, Humans,Wu Song, Dog King
Enemies
High Roller, Twin Masters (formerly, deceased), Zebra Brothers, Bearstomp
Tiger King is the ruler of the tiger army and controller of the great wall train he appears to be slightly taller than his army, and his army attack by rolling people into a hot dog like shape with a large supply of yo-yos. He along with his army get stuff in their teeth, but after being helped by Wu Song he joined big green.
Community content is available under
CC-BY-SA
unless otherwise noted.