Turtle King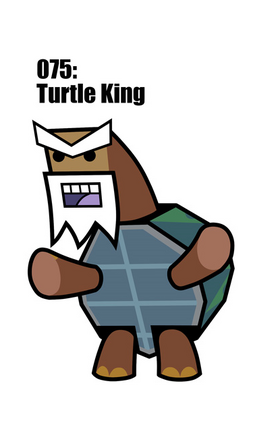 Basic Information
Gender
male
Species
Turtle
Hero:
75
Turtle King is the king of Turtles.
Appearance
Edit
He's distinguished from his minions since he has a mustache, is darker in color, & the only 1 who can sit right up. He so far only appeared in Rhino Castle.
When Mighty Ray pinched his turtle, the tear went all the way to Big Green & put out the candle. Then the Turtles all went with cannons & such to attack Mighty Ray. This happened to him 3 or more times. Later on, when they try & rescue Commander ApeTrully, Mr. NoHands made Mighty Ray angry so he decided to pinch the turtle... again, but soon regretted it... Then, Mr. No Hands asked the turtles to battle with them. They then combine & form a wall around the Rhinos, trapping them. After this, Rhino King said that that the Turtles are now all stamped. However, Mr. No Hands tells Rhino King that he could never own the turtles. Rhino King rampages out of the wall & forcibly attacks the Zebra Brothers out in East Citadel with High Roller waiting for the stuff. Then, the rhinos join Big Green & become the rhino typewriter. however, Mighty Ray's turtle starts to eat again & Mighty Ray pinches him, & the turtles come & attack him again.