Turtles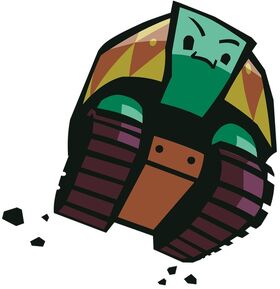 The Turtles are the main mode of transportation of Big Green. They have treads underneath them so they can move at a fast pace. As seen in the episode "Shark Castle", the turtles were once customized by Lin Chung, although this was an accident.
Personality
Edit
Turtles are fiercly loyal to each other, and will not hesitate to seek vengence upon those who make one of their own cry. Whenever a turtle cries it has the ability to send that tear all the way back to Big Green regardless of how many miles they are from it. When the tear reaches Big Green the entire Turtle army mobilises to the location within seconds, fully armed and ready to blast whoever caused the tear with cannon fire.
Their leader is the Turtle King. A smaller, older looking, tan colour turtle with a short grey beard.
It is known that at least some turtles can speak human language. There is some suggestion, such as Mighty Ray's discourse with his turtle in "Rhino Castle", that this is not uncommon amongst the turtles, but only Mighty Ray's turtle , Lin Chung's turtle and Turtle King have actually demonstrated it.
Abilities
Edit
Cannons- turtles have small cannons on their backs that they use as weapons against enemies by firing cannonballs.
Speed- turtles can move very fast on miniature tank treads, even when carrying First or Second Squad on their backs.
Human Language- some turtles speak the language and most turtles at least understand it.
Swimming- the turtles can swim in water.
Strength- turtles appear to be strong, as they can carry humans on their backs, as seen in most episodes, and even pulled Big Green under water in The Air Battle.
Tears- If any turtle cries, their tear will travel to Big Green and alert the other turtles, so they can blast the cause of the tears with their cannons.
They are amongst the only animals never to join with HighRoller in the first place.
Despite being called "Turtles", they have feet like a tortoise, not flippers like a turtle.
It is currently unknown how and when the turtles joined Big Green.