Wu Song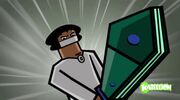 Wu Song is Big Green's dentist. He first appears in "Dog Castle" when he is looking for his brother, Mighty Ray Promised to help Wu Song find his brother since had his cavity remove from Wu Song he would repay him, Mighty Ray finds out that Dog King is Wu Song's brother.
In "Pitched Battle of the Great Wall Train" he went for a walk with Parrot King, but the Humans tell them the Tigers have taken the humans captive to power the time traveling machine for HighRoller's tooth ache to be gone in 5 years. Wu Song went to save them but was captured, so Parrot King went for help, when Jumpy Ghostface's carrots get stuck in their teeth, they get tooth aches, Wu Song helped the Tigers and flossed the carrots out of their teeth and High Roller still has a toothache.
Appearance
Edit
Wu Song is tall with broad shoulders. He has coffee coloured skin, white eyes with black pupils, a squarish face and chin length wavy black hair. He wears a white wrap around his waist , which he can pull up into a dentists coat when he does work. He also carries a turquoise sword, which is like a Swiss Army knife of all his dentists tools, hence the reason why he calls himself a "Dental Warrior".
Even though his brother hadn't been seen until "Dog Castle", Wu Song had confidence that he was alive and just lost.